Become an affiliate
The activity of Affiliate Partner is remunerated in accordance with the Revenue Sharing Plan. Under the Revenue Sharing Plan, an Affiliate Partner in entitled to a revenue to be determined by Table Target Bonus Point.
Important: Bonus Point = Euro conversion rate increases with the successive targets until it reaches the maximum of N° 1 Bonus Point = 1 Euro.

There are 3 simple rules for monetizing Bonus Points (BP):
For each single activity that is "successful" (objective achieved as established by the Operating Instructions) the relative quantity of Bonus Points is credited directly to the BP Counter of the account, even if originating from different activities.


With the achievement of the Targets chosen by the Affiliate Partner, it's possible request the payment of the corresponding cash remuneration with direct credit to the electronic wallet of account E-CV/E-CP: there are no deadlines to accumulate Bonus Points or deadlines to reach the various goals (see Target Table bonus points). Account Wallet can be used to directly pay all products and service Starplan (e-CV/e-CP Subscription plan, Card, Discount Card, Discount Coupon) also on behalf of third parties, or request the transfer money to your bank account*.


After each request for payment of the remuneration, the Bonus Point counter is reset, allowing a new collection of Bonus Points immediately!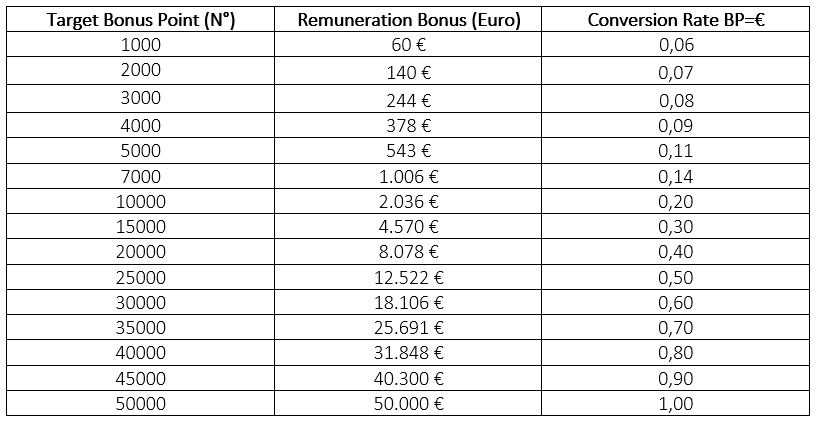 * IMPORTANT: STARPLAN Srl will issue a regular accounting document and will carry out the transfers in compliance with the different tax and currency regulations of each country. For amounts of at least 150,00 euros, Starplan will NOT charge any accounting costs except for bank transfer costs and any withholding taxes and taxes. For smaller amounts, the accounting costs will be calculated from time to time.
Affiliates Program Guide
Download
Log in into Asset Point Suite platform and request to become an affiliate in the dedicated section
Go to affiliate dashboard